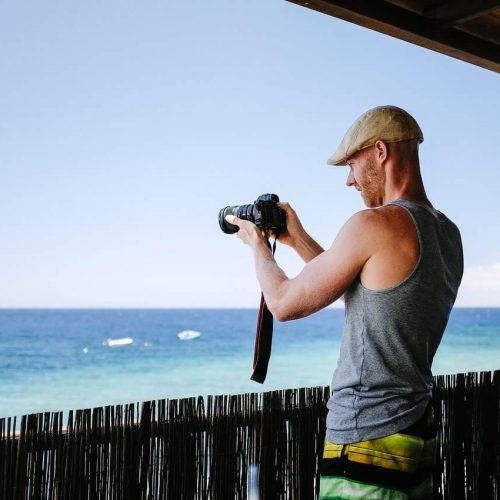 Since I can remember I have always been interested in Film and photography, so my decision to study Audiovisual Communication in the Netherlands (where I was born) was an obvious choice to make. After graduating I moved to La Palma (Canary Islands, Spain) and started working as a cameraman for a regional television network. It was there where I learned to capture the essence of the subjects that I had to film and the way I had to compose my images.
Living on this island I began to take photos of the beautiful nature on La Palma and focus more on my surroundings after I was finished working.  Little by little I began to feel the need to photograph and film things that happened around me and try to share my way of seeing things with the rest of the world. Because of the numerous social networks on the internet I was able to share my photography and videos instantly. It gave me the freedom to film and photograph whenever I found something interesting that was worth being captured. I consider myself a hobbyist photographer who happens to be lucky enough to turn my hobby into my work. So every day for me is doing what I love to do, whether it´s filming or photographing as long as there´s a camera involved, I´m happy. The great thing about modern cameras is that I can use the same camera for photography and video, so I don´t have to bring a great deal of equipment with me when I´m traveling or simply walking around looking to find images. This new aspect enables me to not let anything pass by without capturing it, making it easier to share it with everyone.
Although I started taking photos of landscapes and seascapes, I eventually started to focus on other types of photography as well. I think that the beauty of photography is that you are never limited to do the same thing over and over again. You can always evolve and learn new types of photography, whether it is portraiture, architectural or something else. That´s why I try to learn something new every single day and evolve as a photographer.
There are many photographers that I admire a lot and I don´t even have to begin with great names as Bresson or Ansel Adams. I know many ¨new¨ photographers who just like myself, try and make a living out of this and in my eyes are really talented people. All of us try and share the way that we see things with the people that visit our websites, and I hope that you will enjoy and appreciate my way of seeing things.
Thank you for visiting!